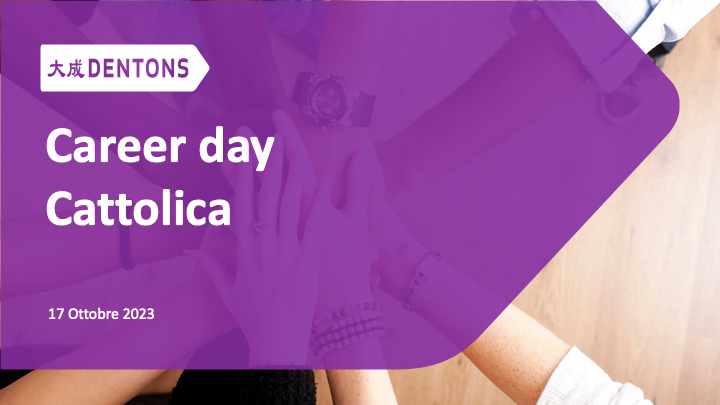 Presente in oltre 80 Paesi, Dentons è uno studio legale globale che aiuta i propri clienti a sviluppare, proteggere, gestire e finanziare il business, con soluzioni legali globali declinate nei singoli contesti locali. Dentons è uno studio legale policentrico, orientato al risultato e impegnato nell'inclusione, nella diversità, nell'equità e nella sostenibilità.
> What makes Dentons different?
Globalized. Dentons is the world's largest global law firm. We have more people in more places than any other global law firm in the world. But our goal has never been to be the biggest law firm. Our goal is to serve clients better. Across over 80 countries, we are more likely to have the lawyer needed to complete a deal or resolve a dispute. Working together, we find agile, tailored solutions to meet our clients' local, national and global legal needs.
5,900+ total number of lawyers and professionals – 12,500+ total number of people – 80+ countries – 160+ locations – 80+ languages spoken
Polycentric. We have no flag, no global headquarters and no dominant culture. We practice all types of law. We take pride in the diversity of our team, which matches that of our clients. Dentons' polycentric nature provides clients a competitive advantage.
Focused on solutions and outcomes. Dentons is the only global law firm to structure its narrative around how it helps its clients to grow, protect, operate and finance their organizations. In taking an outcomes approach and in keeping with our mission to be more than a law firm, we launched Dentons Global Advisors in 2021, with the understanding that our clients' challenges often go beyond the parameters of traditional law and involve complex opportunities and challenges spanning commercial, reputational, financial, regulatory and governance dimensions.
Purpose-driven. Dentons was the first global law firm to unveil a purpose statement and commit to being purpose-driven. Guided by our purpose, we commit to pioneering change and innovation and to bringing the best out of local and global.
> Perche lavorare in Dentons?
Global reach. Globalization – and the corresponding desire to protect cultural identity – is creating challenges and opportunities for law firms around the world. At Dentons you can be a part of a firm that offers more presence in more places. With more than 160 locations in over 80 countries, we offer a world of opportunity for your career.
Polycentric culture. One of the things that makes Dentons unique is our polycentric approach: we have no one global headquarters and no dominant national culture. We offer clients talent from diverse backgrounds and countries, with deep experience across many geographies and every tradition of law, enabling us to get a deal done or dispute resolved in virtually every corner of the world. Our polycentric approach and our commitment to diversity and inclusion makes for a uniquely positive culture in which you can grow and expand your career.
Innovative nature. At Dentons, we are working to reinvent the business of law, capitalizing on new technologies and talent management approaches to better serve our clients. The legal profession has not benefitted from technology like other professional services industries. We plan to change that. That's why we created NextLaw Labs, a global collaborative innovation platform focused on developing, deploying, and investing in new technologies and processes to transform the practice of law around the world. With Dentons, you will have the unique opportunity to pilot and test new technologies and partake in innovation programmes.
Home to top-tier talent. We offer more lawyers and services in more places than any other firm in the world. This offering reflects how we see the practice of law changing. Offices used to be the principal places in which services were performed, and that is still the case in many large, more traditional law firms. At Dentons, we view our offices as portals that connect legal talent across regions. Working with Dentons, you will have the opportunity to work with the top legal talent around the corner and around the world.
 Our trainees, students and graduates tell you why Dentons is different

"Because of the Firm's bold strategy, I felt like I could be a part of something that's different, big, new and growing. I liked that dynamism.

"Dentons is at the cutting edge of technology and the future of law, namely Nextlaw (Labs) and other initiatives.

"The forward-thinking culture of the Firm, the international opportunities and the people drew me to Dentons over other firms.

"Dentons is an unprecedented international force in the legal industry with an exciting future ahead that I want to be a part of.

"The lawyers I met during the recruiting process were very interesting and very welcoming. They inspired me.
> Opportunità di carriera
Tirocinio curriculareda 3 o 6 mesi (riconosciuto come pratica forense anticipata per gli iscritti al V anno)
Contratto di collaborazione professionale per laureandi o neolaureati, entro i 6 mesi antecedenti/successivi al conseguimento del titolo
Open Day in collaborazione con ELSA (prossima edizione autunno 2023)
Master Sports Management Cattolica
Dentons will contribute to train those attending the upcoming First Level Specializing Master in Sports Management: Businesses, Communities, Territories with specific knowledge shared by their Employment team and its Partner and Head of the practice Davide Boffi. The Master's first edition, organized by Università Cattolica del Sacro Cuore and Sportmaster Consulting, begins March 2024 and runs until December. Last deadline for applications is January 31st, 2024. For further details:
> Premi