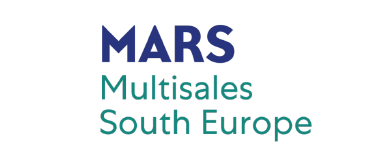 Mars Multisales, South Europe è il cluster che unisce l'Italia a Grecia, Cipro e Malta con headquarter a Milano. Il Cluster produce e distribuisce una vasta gamma di prodotti con marchi tra i più conosciuti al mondo. Tra i brand Mars distribuiti: Petcare – PEDIGREE®, WHISKAS®, CESAR®, SHEBA®, KITEKAT®, GREENIES®, NUTRO®; Chocolate – M&M'S®, SNICKERS®, MARS®, TWIX®, BOUNTY®, MALTESERS®; Wrigley –confections – SKITTLES®; Food – BEN'S ORIGINALTM e SUZI WAN® – e la gamma di healthy snack a base di frutta secca BE-KIND®.  
Mars, Incorporated é un'azienda a proprietà familiare con oltre un secolo di storia nella produzione di prodotti diversificati e nell'offerta di servizi alle persone che possiedono e amano gli animali da compagnia. Con un fatturato di oltre 35 miliardi di dollari, l'azienda è un business globale che produce alcuni dei brand più amati al mondo: M&M's®, SNICKERS®, TWIX®, MILKY WAY®, DOVE®, PEDIGREE®, ROYAL CANIN®, WHISKAS®, EXTRA®, ORBIT®, 5™, SKITTLES®, UNCLE BEN'S®, and COCOAVIA®. Mars fornisce anche servizi veterinari per la salute degli animali da compagnia, tra cui BANFIELD® Pet Hospitals, Blue Pearl®, VCA® e Pet Partners. Con quartier generale a McLean, in Virginia (USA), Mars è presente in più di 80 paesi. I Cinque Principi di Mars – Qualità, Responsabilità, Mutualità, Efficienza e Libertà – ispirano ogni giorno gli oltre 100.000 Associati nella creazione di valore per tutti i partner e stimolare una crescita di cui poter andare fieri. Per maggiori informazioni su Mars, visitaci su www.mars.com. Seguici su Facebook, Twitter, LinkedIn, Instagram e YouTube.
Leader globale operante da oltre 100 anni, in più di 80 paesi del mondo con 450 siti e 130.000 di Associati nel mondo.
Un grande Gruppo: crescita costante e acquisizioni per favorire l'innovazione. Royal Canin (2002), le cliniche Anicura (2018), la piattaforma nutrizionale Foodspring (2019) e l'inconica linea Be Kind (2021) ispirata alla gentilezza sono solo alcuni esempi.
Oltre 70 brands che fanno parlare e sognare.
> Perchè lavorare in Mars?
Mars è una fantastico workplace. In particolare vogliamo raccontare il tangibile e l'intangibile di lavorare in Mars SE, quale Great Place to Work.
Associati, non dipendenti. In Mars le persone sono chiamate " Associati" a sottolineare il rapporto di coivolgimento, cocreazione e lo spirito di squadra.
Pensiamo in generazioni, non in trimestri (visione) – la proprietà familiare unita al respiro globale consentono la libertà di incorporare valutazioni di lungo periodo nelle proprie decisioni.
Agile and hybrid way of working: pioniere in modalità di lavoro innovative (remote working da oltre 10 anni, uffici pet friendly) (da inserire nella grafica)
Opportunità di carriera internazionale.
Oltre i propri confini: progetti cross funzionali per valorizzare i talenti.
Formazione interna illimitata grazie alla Mars University. Corsi, webinar e talks gratuiti e accessibili 24h da remoto. Alta formazione sui line manager: tutti meritano un buon capo. Mars investe in programmi di alta formazione per un great line management.
Inclusione e diversità: ambiente inclusivo che fa dell'inclusività una ricchezza.
Tre generazioni a confronto : 33% millennial, per il 57% generazione X e per il 10% baby boomer (da inserire nella grafica)
60% di donne in organico. Board femminile per il 44% , middle management per oltre il 60%, ( vs media paese 30%) (da inserire nella grafica)
Committed to the communities – Mars Volunteer Program e Mars Ambassador Program- Possibilita di dedicare due giornate di lavoro all'anno alla propria causa del cuore con il volontariato sostenuto
Cinque principi: Qualità, Responsabilità, Reciprocità, Efficienza, Libertà. I cinque principi guidano le decisioni ogni giorno, fin dalla loro definizione agli inizi del secolo scorso.

Un purpose globale: Tomorrow Starts Today (da inserire nella grafica). Il mondo che vogliamo domani comincia dal modo in cui OGGI facciamo business "I risultati finanziari senza un chiaro purpose sono privi di significato. Il purpose senza performance non è attuabile"

In The world we want tomorrow:

Planet is healthy

Everybody is Thriving

Society is Inclusive and Diverse

Ci impegniamo in:

A Better World For Pets (Mars Petcare)

Better Lives Through Nutrition (Mars Edge)

  iii. Better Moments Make the World Smile (Mars Wringley)

Better Food Today, a Better World Tomorrow (Mars Food)
> Opportunità di carriera
MLE Program: Mars Leadership program

Join a 3 years GeneralManagement Graduate Trainee Program
The Mars Leadership Experience (MLE) is a perfect grounding for a career in business leadership. You'll manage projects, take on roles with local and international exposure, lead teams, make decisions with real consequences and much more. The challenges will come thick and fast and it will stretch you like never before. Three years, three different roles within three different functions.
Internship (curriculari ed extra – c

urriculari)
 

Contratti a tempo determinato