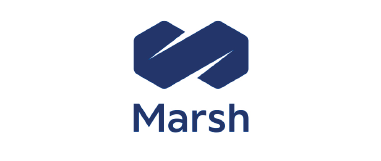 Marsh, leader globale nell'intermediazione assicurativa e nella consulenza sui rischi, conta circa 40.000 colleghi nel mondo che offrono servizi di consulenza a individui e aziende di ogni dimensione in oltre 130 paesi. Marsh è uno dei business di Marsh McLennan, leader nell'offerta di servizi professionali nelle aree del rischio, strategia e persone.
Oltre a Marsh, infatti, fanno parte di Marsh McLennan anche Guy Carpenter, che sviluppa strategie di gestione di rischio, capitale e riassicurazione per aiutare i clienti a crescere in modo profittevole e perseguire opportunità emergenti; Mercer, che fornisce ad aziende e organizzazioni consulenza e soluzioni tecnologiche orientate a soddisfare le esigenze di salute, benessere e carriera dei propri dipendenti; e Oliver Wyman, che offre consulenza strategica, economica e di brand ad aziende e istituzioni.
Marsh, attraverso l'esperienza di Marsh Advisory, società di consulenza che controlla al 100%, aiuta i clienti ad analizzare in modo efficace e accurato i processi aziendali, i rischi a essi associati e i sistemi di gestione e controllo; inoltre, con il brand Mercer Marsh Benefits, offre alle aziende prodotti, consulenza e servizi per gestire rischi e costi associati ai programmi di employee benefit.
Partecipa al nostro Marsh Graduate Programme: potrai essere contattato per un incontro conoscitivo. Sarà un'occasione per conoscere meglio la nostra realtà e confrontarsi sulle tematiche di tuo interesse inerenti il mercato del lavoro e il nostro settore di appartenenza. Ti presenteremo inoltre le opportunità di inserimento in Marsh attraverso il nostro Graduate Programme, dedicato in particolare ai giovani neolaureati e laureandi.
Vieni a conoscerci!
150 anni di servizio ed esperienza globale dal 1871
130 paesi con sedi Marsh in tutto il mondo
40.000 specialisti a livello globale
Presenti in Italia dal 1969
16 sedi in Italia
Più di 900 dipendenti in Italia
Junior Sales Graduate Programme nato nel 2009 e Professional Graduate Programme nato nel 2013
> Perchè lavorare in  Marsh?

Il nostro purpose è Possibility. Per Marsh, il concetto di possibilità non è solo una parola ma qualcosa che permea la nostra storia.
Da oltre 150 anni, infatti, Marsh offre supporto ai clienti che si rivolgono all'azienda nei momenti più difficili e in quelli più felici, aiutandoli a raggiungere il successo, diventare più resilienti e valorizzare possibilità e opportunità. A fronte dell'emergere costante di nuovi rischi e opportunità, Marsh supporta i clienti a orientarsi nel mutevole panorama dei rischi, sostenendoli nella realizzazione dei propri obiettivi e nella creazione di un futuro più stabile e sicuro.
Marsh aiuta clienti e colleghi a crescere e le comunità a prosperare, proteggendo e promuovendo il concetto di possibilità. Gli esperti di Marsh cercano le migliori soluzioni di risk management e i percorsi più efficaci per aiutare i clienti a raggiungere il risultato desiderato. Marsh va oltre al rischio, con l'obiettivo di ricompensare i clienti, l'azienda, i colleghi e le comunità in cui opera.
"We make a difference in the moments that matter."
> Opportunità di carriera
> Range di età
Tra i 22 e i 27/28 anni di et
> Aree geografiche di particolare interesse
Tutto il territorio Italiano, con particolare interesse verso Milano e Roma
Graduate Programme
Marsh, world leader in delivering risk and insurance solutions to clients, is looking for Graduates interested in starting a career in insurance-brokerage and risk-management consulting to join our Graduate Programme.
What can you expect?
A journey of growth and acceleration that includes technical training moments to be alternated with on-the-job training sessions with the constant coaching of a Tutor, a Buddy and a Mentor;
An induction training where you will learn about Marsh's organizational structure and strategic vision as well as meeting our Senior leaders and their Teams;
A Career progression within Marsh: starting with initial 6-month internship, you will have a chance to accelerate your career through an employment agreement.
An Individual Development Plan based on your attitudes and nurtured by high-quality training to lay the foundations for your professional growth, through a mechanism of job rotation, allowing you to make experience in different Marsh teams such as: Risk Advisory, Insurance Broking, Sales and Client Management, Claims Advisory, or Specialties like Employee Benefits, Private Equity and M&A. Financial and Professional Risks and many others.
We will count on you to:
Depending on the job rotation, you may be involve in activities like:
business development with new customers, conducting market research and making cold calls to develop effective sales proposals;
relationship management with current accounts, understanding client risks and supporting Senior Colleagues in advising on insurance strategy solutions;
identify, evaluate and negotiate insurance-carrier coverage policies to meet client needs, developing a deep understanding of insurance markets and analytics-based programs;
support a variety of risk-consulting projects and evaluate exposures to develop risk management solutions.
What is in it for you?
The opportunity to make the difference developing your career in the world's largest insurance broker with a strong brand posing challenging targets;
Attractive benefits coverage, outstanding learning programs, mentoring opportunities, internal job rotations, international working environment.
What you need to have:
University degree, preferably in Economics, Finance, Risk Management, Management Engineering, Civil Engineering, Statistics and Mathematics, Law, graduation within the last 12 months and a brilliant academic path;
Fluency in English and, preferably, in a second language;
Consolidated advanced skills in using the main IT-tools.
What makes you stand out:
A strong interest in the area of ​​risk management and insurance brokerage;
Noteworthy extracurricular activities and international experience;
Self-motivation, ambition and goal-orientation;
A hands-on problem solving approach;
A resilient and flexible mindset;
Being a great team player, a relationship builder and an excellent communicator.
What's next?
The HR Team will review each application looking for graduates who can adapt their learning style, are flexible, open-minded and ambitious.
To help us assess this, we kindly ask you to complete a 25-minutes game-based assessment and to interact with us via OnDemand Video Interviews.