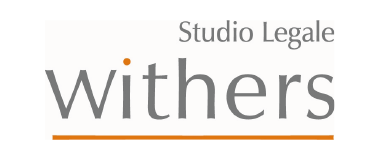 Withers è uno studio legale internazionale che dal 1896 assiste costantemente individui e società con complesse esigenze. Tuteliamo i nostri clienti nel mondo attraverso le nostre sedi negli Stati Uniti, Europa e Asia. In Italia siamo presenti con due sedi a Milano e Padova.
Lavoriamo con una varietà di clienti tra cui family office, istituzioni finanziarie, imprenditori, aziende pubbliche e private, che operano in numerosi settori come: sport, sanità, produzione, vendita al dettaglio, servizi, hotel e tempo libero, tecnologie, media e telecomunicazioni.
Lo studio è in grado di avvalersi di colleghi di spicco nel campo della fiscalità, del contenzioso, del settore immobiliare, dell'immigrazione e della gestione patrimoniale per gestire le esigenze dei nostri clienti.
Tree of life: tale iniziativa, lanciata a livello globale dallo studio, si focalizzata non solo sulla sostenibilità ambientale ma anche su aspetti politici e sociali. Il Tree of Life si struttura attraverso ramificazioni che identificano 8 cardini della sostenibilità aziendale che rappresentano ciò che rende unico Withers: diversità e inclusione, ambiente, pro bono, cliente, comunicazione, dare indietro, governance della firm e benessere personale. Alla base, invece, troviamo le radici, quindi le fondamenta su cui si basa lo studio legale: innovazione, valori e cultura.
Ad ognuno dei dipendenti dello studio è stato richiesto di contribuire al Tree of Life focalizzandosi su uno o più branches di maggior interesse. L'obiettivo della firm è stato quello di identificare una precisa strategia interna ed esterna ridisegnando i principi della sostenibilità aziendale, del benessere e della soddisfazione del personale e dei clienti.
Diversity: lo studio è da oltre 20 anni impegnato nella promozione della diversity e dell'inclusione. In particolare, siamo orgogliosi di avere, a livello globale, il 46% di partner donne e il 66% di avvocati donne.
> Perchè lavorare in Studio Legale Withers?

Siamo il più grande studio legale del mondo dedicato ai bisogni degli individui e ai loro interessi commerciali e non profit e che, da sempre, investe in professionisti e individui.
Abbiamo vinto numerosi Awards, incluso quello per "best place to work" e crediamo fortemente nello sviluppo della carriera dei nostri professionisti, guidandoli verso la partnership accrescendo, contemporaneamente, il loro talento e la loro esperienza nel settore.
"The law firm for success"
> Opportunità di carriera
Stage curriculari;
Stage extra-curriculari;
Pratica professionale forense e commercialisti.
Giurisprudenza
Economia e commercio
> Range di età
Dai 23 ai26 anni
> Aree geografiche di particolare interesse
Milano e Padova
> Premi
Finalista Best Place to Work, TopLegal Awards 2015;
Finalista Best Place to Work, TopLegal Awards 2018.
The Role
The role encompasses a full range of commercial, corporate and M&A work. The successful candidate will be a key member of the team from the start, supporting the drafting and negotiation of various commercial agreements as well as, drafting share and asset purchase agreements, shareholders' agreements and related transaction documents. The suitable candidate needs to be able to produce good drafts of the above documents and help lead the delivery of an M&A or commercial transactions including in relation to due diligence activities. The candidate will be working on multi-national corporate transactions advising corporate, family office and individual clients on disposals, acquisitions and investments, and day-to-day corporate and commercial matters.
The Essentials
Newly qualified – 1 PQE corporate experience
Excellent academics (not less than 102/110)
Former training and experience within a Corporate department
Fluent Italian and English communication skills are mandatory (English proficiency equal to a C1 is a must)
Ability to draft in both English and Italian standard commercial agreements and M&A documentation
Experience abroad for academic or professional purposes is an asset
Enthusiastic and engaged attitude with excellent people skills and a good, clear communication style
Teamwork is vital and you will often work alongside with colleagues in our overseas offices
Strong IT skills (e.g. Word & Excel)
Please do not submit your application should you not meet the above essential requirements.
The Role
The role will cover a mixed caseload involving all aspects of tax, domestic and international wealth planning and trusts.
Other key accountabilities will include:
UK personal tax advice for both domestic and international families on their succession and tax planning using wills, corporates, partnerships, trusts and other structures.
Delivering high quality professional services with a focus on UK tax.
Advice to settlors, fiduciaries and beneficiaries regarding the establishment and management of offshore structures.
Managing clients' affairs effectively and profitably through delivery of own case load.
Building and maintaining a network of intermediaries and enthusiasm for developing business.
Actively working on business development with domestic and international clients.
This list of duties and responsibilities is not exhaustive. It is intended to describe the general content and requirements for the performance of this job and, as such, the role may include the undertaking of additional tasks as required.
Key skills and experience
Previous experience of private client, wealth structuring and tax advice
Experience of working on transactions and large projects
Strong academics
Excellent written and communication skills
Excellent research skills
Team player
Strong IT skills (e.g. Word & excel)
The essentials
30am – 5.30pm but flexibility is a must
Primarily office based, but homeworking encouraged
A generous benefits package
The Role
We are looking for a newly qualified associate with experience in a UK corporate tax seat during their training contract with commercial acumen, preferably gained within a leading international law firm, who is looking to start their career as an associate at, or transition to a firm that offers the opportunity to have a more client-facing and project leading role, working for founders and entrepreneurs as well as companies.
The ideal candidate must have experience in:
Providing UK tax advice for both domestic and international businesses
Cross-border investment and business structuring
Providing tax advice integrated with the commercial, legal and regulatory aspects of transactions
Drafting tax deeds and warranties, finance documents and advising on business taxation
Delivering high quality professional services with a focus on UK tax law
It would be beneficial if the candidate also had skills and experience in some of the following:
Building and maintaining a network of intermediaries and enthusiasm for developing business
Advising on management incentive arrangements, and/or investor tax reliefs, such as the EMI scheme and EIS
Advising on employment-tax related issues and the IR35 rules
Advising on commercial real estate transactions
Advising on tax aspects of investment funds
Person Specification
Candidates must be newly qualified
Be admitted to practice as a solicitor in England & Wales
Must have demonstrable experience of working on tax aspects of corporate and transactional matters
Must have recent experience of cross-border corporate tax structuring
Excellent written and verbal communication skills
Effective team player
An enthusiastic and engaged attitude with excellent people skills and a good, clear communication style
A willingness to take responsibility and ability to form strong working relationships across all areas of the practice
Excellent technical ability, solid drafting skills and strong research skills
Ability to communicate and handle client contact (both internal and external) from the outset
A commercial and pragmatic outlook
Strong IT skills (e.g. Word & Excel)
The Essentials
Working hours: 9.30am – 5.30pm but flexibility is a must
6 month probation period
12 week notice period
Flexible benefit package